While we were browsing through the dpreview forums for our latest forum digest post, we noticed this very informative thread in the Ricoh forum: A brand new camera had been quietly announced on Friday, but apparently Ricoh forgot to tell everyone, or everyone forgot to tell everyone ;-)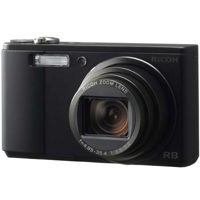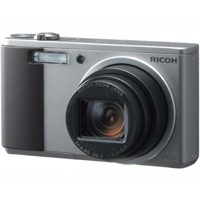 Anyways, the Ricoh R8 is a follow-up in Ricoh's single-R series, which uses a 7x 28-200mm equivalent lens. The previous model is the Ricoh R7, which happens to be on sale at Adorama for $290 and free shipping. Coincidence? :)

The brief introduction, along with a picture of the camera is at CDRinfo who appears to be the website that broke the news of the Ricoh R8. This announcement is also discussed in the DigitalCameraReview forums and at RicohForum.com.

The main features appear to be a 10mp sensor (is it using the 1/2.33" that everyone has fallen in love with in 2008 ????), a 28-200mm equivalent (7x optical zoom lens) with CCD-shift stabilization, and a 2.7" LCD. European price is 500 euro with a March 2008 estimated shipment.

This is all that is known for the moment. More details as they become available. We checked the Ricoh Global site, but did not find the R8 listed there.

Update! The Adorama NewsDesk has some more details on the R8, along with news of a new model, the R50.

From Adorama we learn that the R8 borrows features from the GRD and GX100, uses the Smooth Imaging Engine III, a 2.7" LCD with 460,000 pixels at HVGA resolution, 1:1 square format, and also a complete redesign.

Meanwhile the ADJ (adjust button) evolves, a fixed minimum aperture option is offered, AF or AE shifting without ...shifting the camera, 1cm macro at wide, and 25cm macro at telephoto and such. Yes, it does have face recognition!


Pre-ordering the Ricoh R8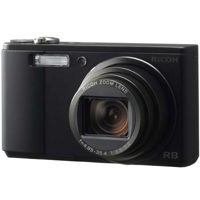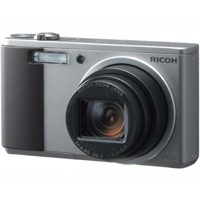 Yes, Adorama is on top of things! They have listed the R8, and it is available for pre-ordering for $369 $399. The R8 is available in three different colors! Yes, three! There's the black finish, the silver finish, and the the black finish with silver silver. All three have a pre-order price of $400, and Adorama estimate delivery around mid-March 2008.


More Details
More coverage of the R8 at Gizmodo, dpreview, and Ricoh Global, in english. This includes a 4.6 MB 8-page PDF brochure (PDF file) which features detailed specs, various sample pictures (obviously not full size), and more promotional material for the camera. Overall a nicely done brochure.

Also at the Ricoh global site, speciifications, and a five sample picture at full size. The samples include one at 28mm, one at 200mm, a close-up, a portrait, a misnamed landscape, and a night picture (not quite night-time though).

The Ricoh specs confirm that it is using a 10mp 1/2.3" CCD, something a lot of manufacturers have fallen in love with in 2008. Why? Because it gives them double-digit megapixels, and apparently that's what the marketing peoples of the camera companies have decided is needed to make a camera "sexy" in the eyes of the average consumer. Maybe this will be the compromise in the megapixel wars. Double-digit is good enough (for the marketing people).

Rant aside, it also features manual focus through the menus of course, not with a focus ring. Shutter speed ranges from 8 seconds to 1/2000s. As we mentioned before it has sensor-shift image stabilization which is a good thing. It has interval shooting that some people really like, a color bracket function, histogram, and uses the DB-70 LiIon battery with a CIPA rating of 270.

Sadly from what we can tell (and we could be wrong), this does not have manual exposure, nor aperture or shutter priority. Just Program mode and Scenes galore.


Monthly production output
The official Ricoh Japan announcement has come out, and that has some new news: The initial monthly production output for the R8 will be 50,000 units per month. That is indeed a healthy number for a company like Ricoh. This certainly bodes well in our opinion.


And the first Ricoh R8 review is out!
Think Camera has published the first review of the Ricoh R8! Check it out to see what they found out! We won't be spoiling their findings. This is a spoiler-free post :)

If you like this post, be sure to add it to your online bookmarks!