Welcome to another edition of the Noisy Shopper! If you are not interested in shopping, be sure to check the two new installments of the Photography Soup posted just below!

Adorama Specials!
Want to give the Samsung cameras a try, but don't want to "gamble" too much money on them? Here is your chance! The Samsung S850 is offered for just $118. This uses an 8mp 1/1.8" sensor, and a 5x zoom, but no stabilization. Not to be confused with the Samsung S85 which uses a 1/2.5" sensor.

Recharge and recharge! Ansmann 2700mah rechargeable AA NiMH batteries are offered by Adorama for $10 for a 4-pack

An elephant never forgets, but he or she can't store your pictures! The 12gb Sandisk Extreme III Compact Flash card can, for the price of $100, after a $60 mail-in rebate. Both memory card and rebate are available at the Adorama site.

Want a nice and sleek ultracompact that has the Nikon name on it, but don't want to break the piggy bank or wait for the tax rebate check? Then give the Nikon Coolpixie S51 a spin at $170. This is the S51 model, no the S51c. The ones with the small "c" have the wireless capability. A feature that despite the popularity of wireless in other areas of technology has not really caught on with digital cameras. Interesting? Who is to blame? Is it the users or the manufacturers for not delivering the right products? We blog, you decide!

Bogen, Manfrotto means one thing! Tripods! The 718B Compact Digi Tripod with 3-Way Head & Carry Case is offered for $100, and with free shipping too! Thank you Adorama for the free shipping!


Don't Taze me Bro!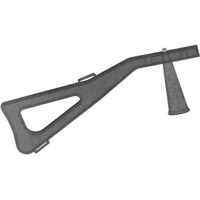 Relax, it's not a gun! It's a Stedi-Stock Shoulder Brace Stabilizer for Cameras, Camcorders & Spotting Scopes for just $40. Yet another innovative approach to combat camera shake. Is it for you?