For our readers who are avid shoppers, we are starting a brand new on-going feature that tracks any President Day digital camera sales of interest! If you are not interested in shopping, be sure to check our 25 most recent posts. (Please note that prices and availability can change at any time).

New deals will be listed at the top of each category. There are four categories below: DSLRs, Lenses, Compact (non-DSLR) digital cameras, and Everything Else.






DSLR World
The Sigma SD14 with the Sigma 18-200 DC OS lens is tempting buyers at $900, offered by Cameta Cameras on Amazon.



Meanwhile the "old" Olympus E330 is offered by Cameta Cameras on amazon for just $300, or $400 with the (older) kit lens. Please note this camera does not have sensor shift image stabilization. This is a good idea for people who already have 4/3rds lens and are looking for an additional body, or perhaps have old OM lenses and access to the OM adapter.



More for Foveon fans! Apart from the Sigma DP1 and a handful of accessories available for pre-order for $800, the Sigma SD14, body only, DSLR is offered for $600, sold by Cameta Cameras on Amazon.



Tired of digital SLRs, RAW, post-processing, noise, memory cards and such? Tired of metering sensors, focus motors, autofocusing modules? Throw all that out the window! Get a real camera, all manual, all film :-) Such as the Nikon FM10 35mm SLR camera kit for $250 by Adorama on Amazon.




The Canon 5D with the 24-105 f4 L IS USM lens is currently at $2750 at Amazon, sold and shipped by Amazon.

Thanks to one of our readers for the tip: Amazon has a special offer on Nikon gear, you receive an additional $100 discount if you purchase either a specific D40 kit or a specific D80 and one from a list of three lenses. This special only applies to participating DSLRs and lenses that are sold and ship by Amazon.com itself, not by any of the many 3rd party sellers. More details at Amazon. To see the special offer, be sure to view the Amazon page for the product. It won't show if a 3rd party retailer is the featured seller. (Yes, that's messy). Here is a quick summary:

Purchase the D40 with 18-55 kit lens (current price: $500) or the D80 with the 18-135 DX lens ($1045 current price)

Purchase either the Nikon 55-200 f4-5.6G ED AF-S DX (current price $157), or 55-200 f4-5.6G ED AF-S DX VR (current price $213), or 70-300 f4.5-5.6G ED-IF AF-S VR (current price $486).

During checkout you will receive a discount of $100 off the total price. A screenshot follows right below:

If this doesn't make sense, please let me know, and I'll try to rephrase it




A deal of interest is the Olympus E510, with the new two-lens kit, featuring the 14-42mm f3.5-5.6 and 40-150mm f4.0-5.6 Digital Zuiko lenses, sold and shipped by Amazon for $644. The body only version is hovering around $500, which means you get the 2-lens kit for under $150.




And a trio of specials from OneCall.com: Canon 40D with the 28-135 EF IS USM lens is offered at $1280 with free 3-day FedEx shipping. Not a bad price. Not to leave Nikonians out, the Nikon D200 (Body Only) is going for $1268. Even the prices are near! The eternal battle between good Nikon and evil Canon continues! Just kidding Canon fans :-) Meanwhile the Canon 1D Mark III goes for $4030 at the moment with free 3-day Federal Express shipping. All the cameras mentioned in this paragraph and sold and shipped by OneCall.com.

Meanwhile the bang for the buck Nikon D80 is at $777 body only, sold and shipped by Amazon.com


Lenses
Nikon mount users, here is a nice bundle for you around the Nikon 18-200 DX VR lens. It is offered by Cameta Cameras on Amazon for $690. This includes the lens (obviously), along with a Hoya 72mm UV Haze Protector Glass Filter, 6-Piece Lens & Digital SLR Camera Cleaning Kit, and CapKeeper 2 Lens Cap Strap.



Speaking of lenses, the Tokina 50-135mm f2.8 Pro DX APO AF lens for the Canon mount is offered for $650 by Adorama. This is an f2.8 throughout DX lens!

The Canon instant lens rebates are expiring on February 18, 2008! Be sure to check them out before they expire! Instant rebates show up in your shopping cart, there is no need to mail anything!







Compact (non-DSLR) digital cameras
Zoom! Zoom! The Canon S5 IS is now discounted to $327 at Amazon. When is Canon going to announce their next superzoom? We don't know, but the price is nice on the S5 IS!



The Casio EX-Z77 is offered with a bonus bundle by Circuit City for $160. The bundle includes the EX-Z77 camera, an extra battery, a camera case and a tiny tripod.




Just $80 is the Samsung S73 at Circuit City. The S73 is a 7mp, 3x optical zoom, typical entry-level, AA-based, SD-eating digital camera.

Another nice Ricoh price, the Ricoh GX100, without the viewfinder, is offered at $500 by Adorama with free shipping. Adorama also offers another kit for $627 which includes the the external viewfinder, an extra battery, a hood and a free case.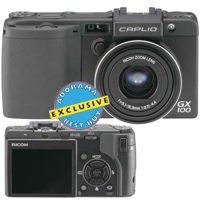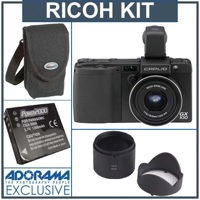 Small, affordable and colorful the Fuji Z10fd is now down to around $130 at Amazon, depending on body color and retailer. This camera takes both xD and SD/MMC memory cards, giving it more storage flexibility. As always, don't expect DSLR performance for a tiny ultracompact with folded optips!

Ricoh fans, you can get the special anniversary edition of the original Ricoh GRD I for just $450 at Adorama and with free shipping to boot!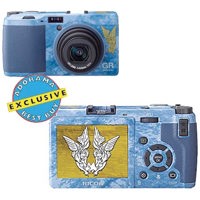 Hot in the pre-orders list at Amazon are the Panasonic TZ5 for $350, and the Sony T300 at $400, along with more affordable Sony W120 at $200. If you like Sony and wide-angle, please keep in mind that the Sony W170 starts at 28mm wide. And at just $140 you can pre-order this lovely ruby red Nikon L18:



The Olympus Stylus 1200, in black finish, is offered by the good people of J&R World for $230 and free shipping. That puts it at less than $20 per megapixel :-)


Olympus Stylus 1200 12-Megapixel Digital Camera



We have the perfect camera for the recession! The Canon A570 IS for $140, sold and shipped by Amazon.com. Another option at $194 is the Canon A720 IS. Both use AA batteries, SD/MMC batteries, and offer PSAM and some other manual control features. Can you get a more feature-packed camera at under $200?

But if you really want to spend as little as possible, how about the Norcent DCC-725 for $68? Its specs say 7mp with a 3x optical zoom lens. We know nothing about this camera, so be sure to research it out. Sold and shipped by Amazon.

If you love the Elph/Ixus/Ixy style and love 3" LCDs on digital cameras, the Canon SD750 is only $198, also at Amazon.

The pre-orders of the newly announced Fuji F100fd are picking up at Amazon, at the price of $380. The good news is that Amazon has a pre-order low price guarantee, so you get the lowest price if the price drops before it ships. They also have a 30-day post-shipment low price guarantee, so you can ask for the difference if the price drops. Please keep in mind this only applies to products sold and shipped by Amazon itself, not by any of the many 3rd party sellers selling at Amazon.



Panasonic FX fans have some good news, the FX55K (black) has gone down to $265, sold and shipped by Amazon. Panasonic seems to like holidays for their price cuts, as the LX2 silver is now $334 sold and shipped by Amazon.



Ricoh fans this is for you! The good people at Adorama are offering the Ricoh R7 on sale for $290 and FREE Shipping! This camera features a 7x lens with the 35mm equivalency of 28-200mm.

The battle of the "fun zooms" is taking place at Amazon! The Canon SX100 IS is at $234, while the Panasonic TZ3 is as low as $230 for the silver version. Meanwhile the most popular perhaps of the hyper zooms is the Panasonic FZ18 at $330, by Vanns of Montana on Amazon. And while we are on Panasonics, the Panasonic LZ7K is $130 on Amazon, sold by J&R World. The more traditional 12X superzoom, the Panasonic FZ8 is now at $250.

Also at Adorama, the Samsung S850 is offered for $129 with FREE shipping. This is the model that uses a 1/1.8" sensor and AA batteries. Not to be confused with the S85, which uses a 1/2.5" sensor and LiIon batteries. Oh did Samsung ran out of model names? Oh the confusion! The Samsung S85 meanwhile is at $114 at Amazon.

Free memory card (SD or xD) (or an equivalent discount of $12.50 off a more expensive card) with purchase of select digital cameras at Amazon. The list includes 29 different models, and the offer expires on March 17, 2008. The list includes notable models like Canon S5 IS, Fuji S8000fd, Panasonic FX55, Fuji F50fd, Pentax W30, Nikon P5100, Canon SX100 IS, Samsung NV10, and such. To see all the cameras participating, check the list at Amazon.com. This only applies to digital cameras sold and shipped by Amazon.com, not by any of the many 3rd party retailers or sellers at Amazon (eg J&R, Adorama, OneCall, Uncle Joe's Garage, etc).




Hot off the heels of the just posted dpreview review by Lars Rehm, the Canon SD850 is offered by J&R World for $240, with minimum shipping $7 for UPS Ground.

Nikon's response is the Nikon Coolpix S510, offered at $180 with free 3-day FedEx shipping by OneCall.com.

Sony's H-series attempt at the "fun zoom" segment broken out by the Panasonic TZ3 is the Sony DSC-H3 Black, sold at $248, with free 3-day FedEx shipping by OneCall.com

The reviews are mixed on the Fuji F50fd, but the price of $212 (Amazon) can forgive a lot of the issues when comparing it to the other digital cameras available at the same price range. But don't compare it with the legendary Fuji F31fd which uses the Fuji 6mp SuperCCD Magic sensor.



Satellite Technology for Digital Cameras
David Ziser of Digital Pro Talk has spoted a fire sale of CS2 tutorial DVDs, at half off at Kelby Training. Check it out!

Lights! Action! Flash! The Sigma EF-530 DG ST Electronic Flash for Canon DSLR is hot at $176, sold and shipped by Amazon.com

$10 for this gizmo: The CamGrip, a No Slip Grip & Steadier for all Digital Cameras, attaches to the tripod mount. Offered by Adorama for $10.




How appropriate of a heading, since we start with the Toshiba Satellite A205-S5812 notebook computer for $700 with UPS shipping starting at $17. This features a dual core Intel (T2330), 2gb DDR2, 160gb hard disk, 15.4" WXGA TruBrite, super multi format dual layer dvd burner, 1 ExpressCard slot, WiFi and such.

If you regularly showcase your pictures or art, you may want to try a dual purpose "glorified" slideshow, an LCD HDTV! ;-) An affordable candidate for this task is the Westinghouse SK-26H590D 26" HDTV/DVD Combo Television Set for $580. The embedded DVD drive allows you to showcase your pictures without having to carry or connect a dvd player. Be sure to check though that the embedded dvd player is compatible with the type of discs you are planning to use. The optical media soup makes jambalaya look like a bowl of steamed rice ;-)

If you need an extra desktop LCD screen to throw around, Tiger Direct is offering the Acer 19" DVI Black LCD Monitor for $170.

Need a backup or throwaway tripod for just $10? That's what Cameta Cameras is offering on Amazon! We are talking of course about the Targus TG-50TR 50-inch Aluminum Compact Travel Tripod with 3-Way Head and Bubble Level for Video Camcorders, Digital Point & Shoot and SLR Cameras. There are two customer reviews of this there, and an average rating of four out of five stars.




Footnotes
For reviews of some of the DSLRs mentioned above, be sure to check our DSLR Review Matrix. For reviews of advanced non-DSLR non-superzoom compacts, be sure to check our Power Compact (Deluxe Noisy Boxes) Review Matrix. We don't have a Lens Review Matrix yet, that feature will probably come in the Summer of 2008. But be sure to check the lens reviews at Photozone.de (in english).