The Panasonic TZ5 is feeling blue, more specifically the blue model, which is currently departing Amazon warehouses for $270 with free shipping. A number of websites have recently reviewed the TZ5, so much so, that you can't swing a mouse cord on a review site without hitting a TZ5 review :)

Grads and dads and new borns too, the blue Casio EX-S10 is going for $214 at Buy.com, with free budget shipping as well. They also have a 2gb Kingston SD card for $12, and a Canon SD750 black (black+silver) for $177.

Olympus fans may feel tempted, their new flagship (although E1 fans will insist the E1 is the one true flagship), the E3 DSLR has now crossed the psychological $1500 barrier at Amazon. Currently selling for $1483. Body only of course.

Also going on, for now and until late July, the Canon Instant Rebates, which also include a side-kick promotion, a $50 Digital Rebel upgrader mail-in rebate, which you may have already qualified for if you recently bought a 40D/5D and you also had or bought a Digital Rebel.

Pentax has their own rebate party, with total savings of up to $375 if you buy the maximum number of items in the promotion. The Pentax Gear Up rebates are of the mail-in variety. Details in our detailed Pentax Gear Up Rebates program round-up.



Adorama Weekly Specials start now!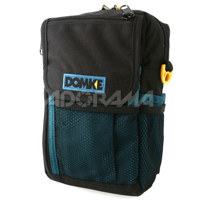 Adorama has launched a new set of weekly specials, which includes the Domke Ratpack 20, an all-purpose shoulder pouch for just $10. We think that's a Sony Floppica shown in the picture, but obviously not included with the bag.

If you are a Savage fan, then you might be interested in the Savage Twistol Grip Tripod with Ball Head which supports up to eight pounds, and has a maximum height of 69" (5 feet 9 inches). Carry case included. Weight is also eight pounds. Now that's what I call pound for pound :) The price is $100 with free shipping and handling.

If you are buying an affordable gift for a grad or dad, and the said grad or dad is aware that bigger sensors in digital cameras are better, then perhaps they will appreciate the Kodak V1003, going for $120 with free shipping. This is an older camera using a 10mp 1/1.8" sensor. Flash-forward to today, the bandwagon is named 10mp 1/2.33". Fast forward to 2010, and who knows where we will be!